Digital Health ID Card. On Monday (27th September 2021), Prime Minister Narendra Modi launched the Ayushman Bharat Digital Mission (ABDM), claiming that it has the "potential to bring a revolutionary change in Indian healthcare facilities".
The main aim of ABDM is to develop the necessary backbone to support the country's integrated digital healthcare infrastructure. It will provide reliable data, leading to better treatment and savings for patients too.
Get the full details of the ABDM Health ID Card, how to apply for the PM Health ID Card, the Registration process, Benefits of the NHDM Health Card, and what it contains below.
What is a Digital Health ID Card

 

& How

to 

get 

it?
It is a paperless manner of you & your family members health record called Personal Health Records (PHR). It accesses and links with Health ID to create longitudinal health history.
This mission will provide each citizen with a health ID, which will also be used as their health account. Personal health records can be linked to the account and viewed with the help of mobile apps.
Benefits of Digital Health ID Card
The main benefit of the ABDM mission is that the patients will be able to safely store and access their medical records (such as prescriptions, diagnostic reports, and discharge summaries) and share them with healthcare providers to ensure proper treatment and follow-up.
ABDM will provide individuals with the option of accessing public and private medical services, promote compliance with established guidelines and agreements, and ensure the transparency of service pricing and accountability of the medical services provided.
Health professionals in all areas will have better access to the patient's medical history in order to prescribe better and more effective health interventions.
ABDM enables a comprehensive feedback loop between researchers, policymakers, and suppliers.
How do you get a Digital Health ID Card?
You can only create a Health ID with your mobile number or Aadhaar number. You can also set up a PHR (Personal Health Record) address for consent management and subsequent exchange of medical records.
To create a digitally secure Health ID, follow the steps provided below by our website.
Step – 1: Go to the official website of ABDM – https://abdm.gov.in/home/ndhm
Step – 2: Now click on Create your Health ID (अपनी हेल्थ आईडी बनाएं) link on the top corner of the website.
Step – 3: New window will open to register. To generate ID two options are available on the portal. Option 1 – Generate Via Aadhar Card. Option 2 – If you don't want to use Aadhar to create a Health ID.
Step – 4: Click on the 'Generate via Aadhaar Card' link.
Step – 5: Enter the mobile number & OTP will get to the Aadhaar linked mobile number. Fill the OTP & tick the right mark on I Agree, and click on the submit button.
If you choose Option 2 follow these steps
Step – 4: Click on the 'Click Here' link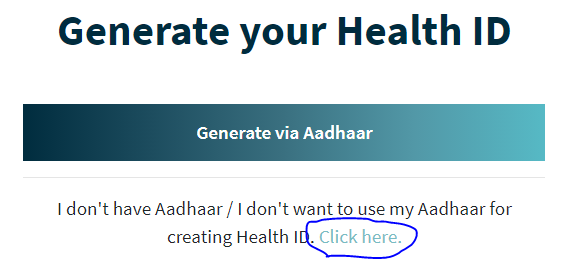 Step – 5: Now click on the link 'Generate via Mobile'.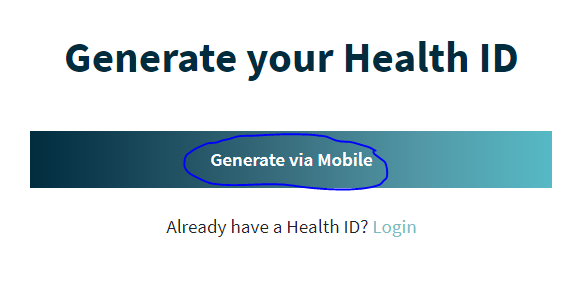 Step – 6: Enter the mobile number, generates the OTP, and follow the steps.
Step – 7: Fill the form with accurate details and submit the application form.
Step – 8: After successful registration, you will be assigned with Health ID/ PHR Address.
Step – 9: Once complete the process of registration, login to the portal with your Health ID & Date of Birth.
If you have problems with your health ID
Please contact – ndhm@nha.gov.in
Alternatively, you can call to the toll-free phone number: 1800-11-4477 / 14477.
FAQ – डिजिटल हेल्थ कार्ड
What is Ayushman Bharat Digital Mission?
Its purpose is to develop the backbone needed to support the country's integrated digital health infrastructure.
What do I need to register for my Health ID?
Through Mobile Number: Name, Year of Birth, Gender, Address, Mobile Number. Through Aadhaar: Name, Year of Birth, Gender, Address, Mobile Number, Aadhaar Number.
Does Aadhaar need to create a Health ID?
No, It is not mandatory to create a health card. A valid mobile number is enough.
Do I need to submit physical documents?
You don't have to submit physical documentation everywhere as part of an existing process. Registering your health ID is paperless and hassle-free.